Farmworker Career Development Program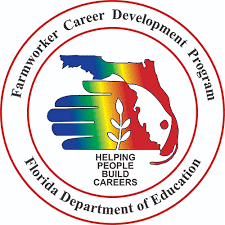 Farmworker Career Development Program serves all of Palm Beach County residents.
Eligibility criteria:
U.S. Citizens or legally authorized to work in the U.S.
Employed in an agricultural job recognized by the U.S. Department of Labor within the last 24 month period.
Received at least 50% of total income from agricultural work.
Earn less than the poverty guidelines.
Registered with Selective Service (if male born after January 1, 1960).
If above conditions are met, dependents and spouses are also eligible.
Services offered:
Counseling and evaluation
Vocational Training
Referral services for transportation and emergency services such as utility and rental assistance
Job Placement Assistance ( Resume assistance, Job Search assistance, Interview skills prep)
Follow-ups
All program clients are expected to complete training and actively job search in the field of training provided. Regular contact with staff member is required throughout entire process.